Welcome to
DaSilveira Southwest, Inc.
Leading Innovation in the Dairy Industry
Your Trusted Provider of Cattle Stanchion
DaSilveira Southwest, Inc. in Madisonville, TX has the widest variety of stanchion styles and sizes in the market. Our company has the equipment you need for dairy cattle, heifers, and calves.
We pioneered the production of a revolutionary system that provides a continuous release. This makes livestock handling safer for both cows and the handler.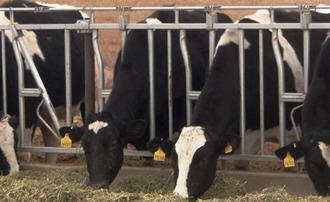 Our patented designs feature the use of a few moving parts that provide durability and longer product life. We also offer complete lock rails and parts.
Larger cows and bulls will have more space to enter with our new extra-wide self-locking crown stanchion. Our 18 7/8 inch hole is the widest opening available on the market. This allows easier access for your cattle without compromising the space from hole to hole, along with the widest down cow release.
We also offer an innovative lock-rail guide that makes the removal and installation of the locking mechanism easier. This is available in 5 holes for 10 feet cow size and 6 holes for 10 feet heifer size.
We strive to provide you with quality stanchions that will save you time and money. Contact us today to learn more.